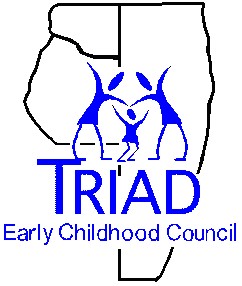 Please come join the TRIAD Early Childhood Council for a Conference on "Linking Communities for Success," a triennial event providing information, connection, and recognition for anyone working with or on behalf of young children and their families.
The conference will include the sessions described below and additional sessions will be added.
KEYNOTE SPEAKER: Angela Russ-Ayon, a nationally-featured keynote presenter, consultant, author, and leader motivating others to read, sing, play, move, and learn!
COST
$75.00 - REGISTER BY 5:00 PM - Friday, April 20th
BENEFITS
Participants will receive 6.0 hours of Professional Development
Breakfast, Lunch, and Afternoon Snack will be provided
There will be Door Prizes!!
We hope you will be able to join us!
SESSIONS
Presenter: Carla Sciarrino, LSCW, IMH-E
Presentation: Supporting Lesbian, Gay, Bisexual, Transgender, and Queer (LGBTQ) Families in Early Childhood Settings
As part of my master's thesis I did a qualitative study asking parents across the country who identified as lesbian, gay, bisexual, transgender, and/or queer with a current preschooler or current kindergartener who was in preschool last year to tell me about ways in which their child care setting made their family feel welcomed and ways in which their family structure did not feel welcomed. I will use the findings of my own studies as well information from other leaders in the LGBTQ and early childhood fields to discuss steps that can be taken to make sure that diverse family structures are welcome in early childhood settings. Including examining language used in settings as well as on enrollment/intake/new client forms are welcoming, providing a bibliography or early childhood picture books that feature families of all types, etc. and thinking about how to answer concerns from parents/other staff around including LGBTQ families/stories and questions that may come up.
Presenter: Jill Kranitz
Presentation: Resilience, Well Being and Presence through Mindfulness
Presentation will be part lecture with PowerPoint and part experiential with various mindfulness practices. With almost 40 years of scientific research we know that mindfulness has the capacity to improve mental and physical well-being, emotional regulation, promotes resiliency, and positively changes brain structure. The PowerPoint and lecture will define mindfulness, briefly cover how stress affects our brain and how mindfulness can counteract it, and science and research of mindfulness. The experiential practices will give participants firsthand experience of the benefit of mindfulness, which they can then take away and use in the future.
Presenter: Liz Huffman, LCSW
Presentation: Child Abuse and Neglect: What Can I Do? What Happens During & After I Reach Out for Help?
After the presentation, participants will know and understand the legal obligation to report child abuse and neglect as mandated reporters, as well as the steps for reporting. There will also be an increased understanding of the process a call goes through after the report is made, including the response taken by the agency, time frames used, and options for ongoing services.
Presenter: Angela Russ
Presentation: It's NEVER Math Time. It's ALWAYS Math Time! Making Early Math Easy and Meaningful
Math education is easy and starts early with a child's natural curiosity, propensity to imitate, and desire to learn, with math concepts being introduced and practiced in a child's environment all day, every day. Integrate motor skills, creative arts, and "The CLASS" principles of instructional support to enhance early math learning and improve retention. Create unique learning experiences that help children process ideas, think logically, solve problems, and make sense of their world. Become known for providing daily learning activities that build a stable foundation for school readiness. It will extend your waiting list!
Presenter: Joanna Coleman
Presentation: Culture of Wellness in Preschools: An exploration of health and wellness practices in action
This presentation will begin with a brief (10 minute) PowerPoint to give participants background knowledge and understanding of the Culture of Wellness in Preschool programs. Then, participants will have a few interactive breakout sessions. One breakout will include a self-reflective activity using music/video to identify their current personal health status and facilitate an opportunity to reflect/discuss. Then, participants will explore various materials using a specific focus (transitions, small indoor space/classroom, large/outdoor space) to create, practice, and present structured activities for children that will promote physical activity. Next, participants will explore a lesson from our Parent Education program. They will learn about sugar content in various beverages and read nutrition labels in order to measure sugar quantities. A "make your own water infusion buffet" will be provided (along with samples of water consumption goal sheets) to promote water consumption and inspire participants to create personal/professional goals around drinking water.
Presenter: Zach Maple
Presentation: What is Applied Behavior Analysis and Who are Behavior Analysts?
This presentation will provide information about the history and treatment options of Applied Behavior Analysis (ABA). It will also describe the ways to evaluate ABA programs the attendees may utilize, as well as provide a way to understand the credentialing process and how to find credentialed behavior analysts for ABA support. It will provide a broad description of areas that ABA may help support their families.
Presenter: Heather Hanna
Presentation: Early Childhood Councils: Strengthening Colorado's Early Childhood System
Colorado's 34 Early Childhood Councils are locally governed and coordinate with local partners to align services and resources for families. Councils have a unique role within their local communities to serve as an early childhood hub for partners, providers, caregivers, policymakers, and leaders to coordinate, collaborate, and align resources. Councils are also integral in supporting the statewide need to increase and sustain the quality, accessibility, capacity, and affordability of services for young children and their families. Effectively, Councils "connect the dots" to create a seamless early childhood system that improves access to high quality services and supports.

This unique statewide network of Councils is supported by the Early Childhood Council Leadership Alliance (ECCLA). ECCLA is a membership association developed to support Councils by providing technical assistance and capacity building, implementing shared measurement for collective impact, advocating for policies affecting early childhood issues, leveraging statewide partnerships, and serving as the voice for Councils. Learn more about the work of Early Childhood Councils and ECCLA's role in supporting this vital work.
Presenters: Carolyn McDonald / Suzanne Koskimaki
Presentation: Trauma Informed Care & Trauma Sensitive Practice in an Early Childhood Setting
In this session, participants will gain a basic understanding of Adverse Childhood Experiences (ACEs) in young children and leave with strategies to support both teachers and children with challenging behaviors in the classroom environment.
Presenter: Catherine Greisch
Presentation: Strengthening the Village - LAUNCH Together Jefferson County Partners
This presentation will provide an overview of the ongoing LAUNCH Together work in the Jefferson County early childhood community, specifically in five areas of prevention and social-emotional health promotion: behavioral health integration, enhanced home visiting, mental health consultation in early learning, family strengthening, and screening and referral. Discussion of how LAUNCH Together fits into the larger context of early childhood work across the state (e.g., CoAIMH, Project LAUNCH) and the challenges and successes involved in building a cross-system coalition.
Presenter: Rick Granquist
Presentation: Improved Communication Using Person Centered Tools
Will provide attendees samples of Person Centered tools that can be used to improve communication between families and providers, and between providers about where the child is in their learning cycle, what is important to the child, and how to best support them.